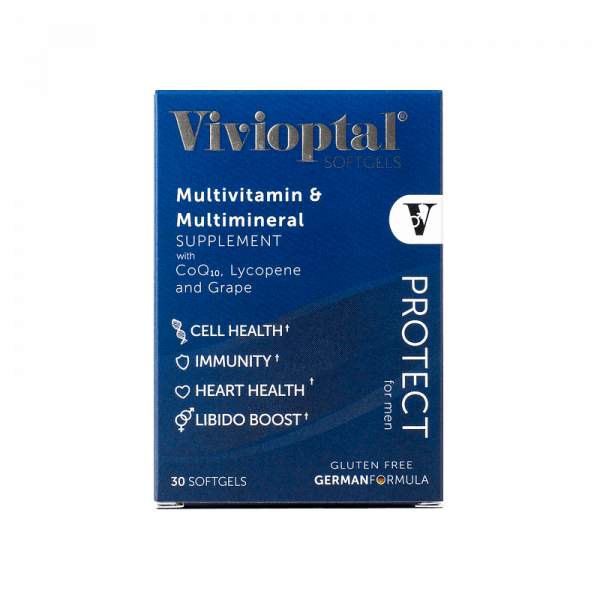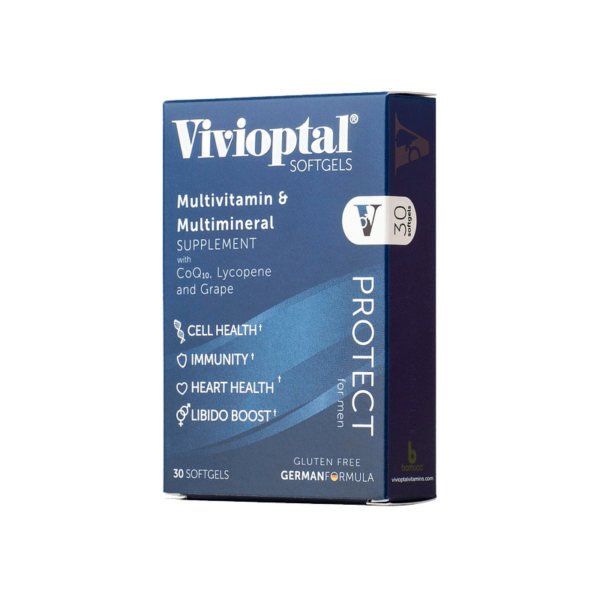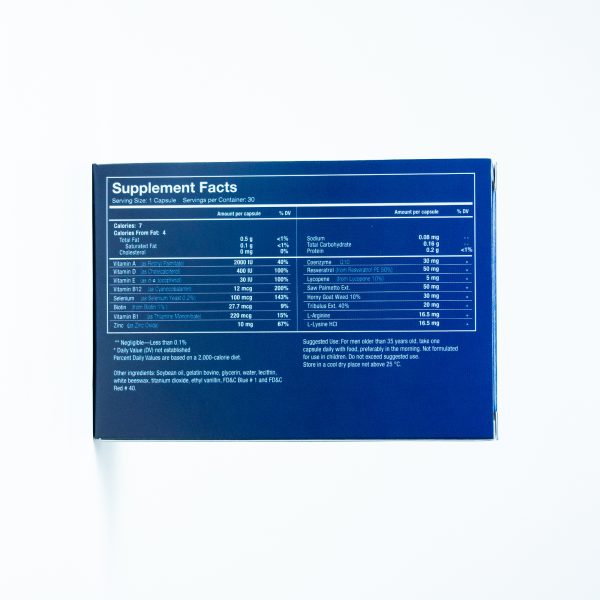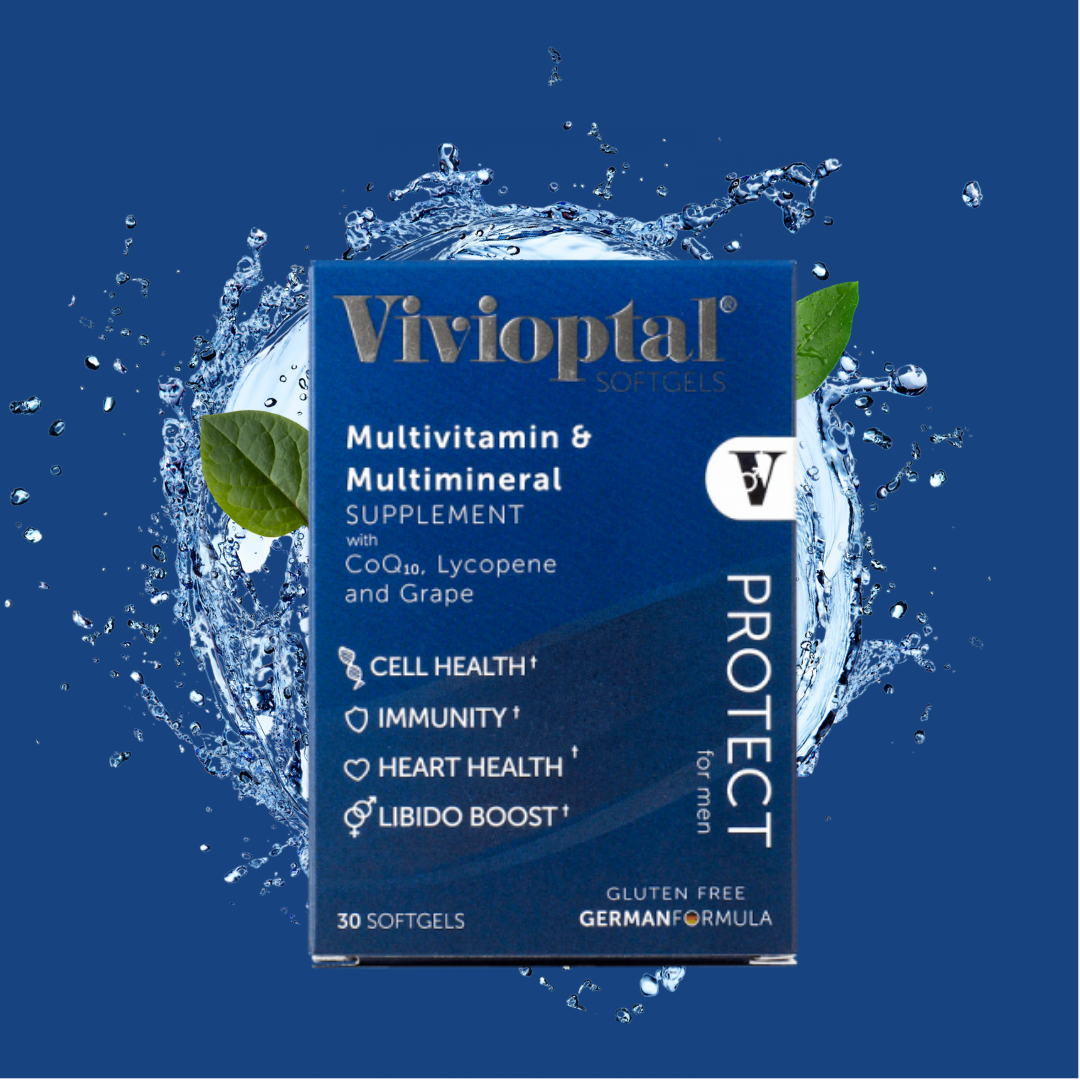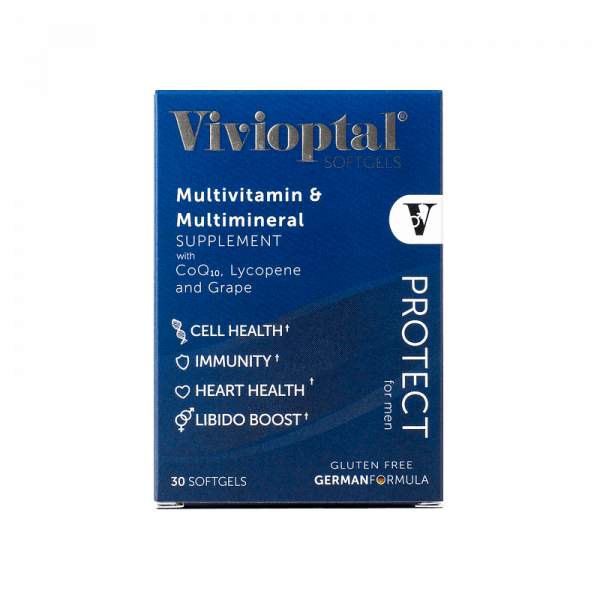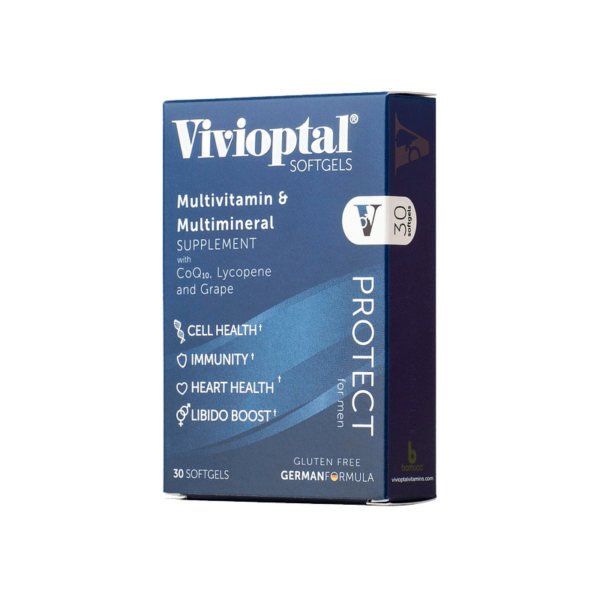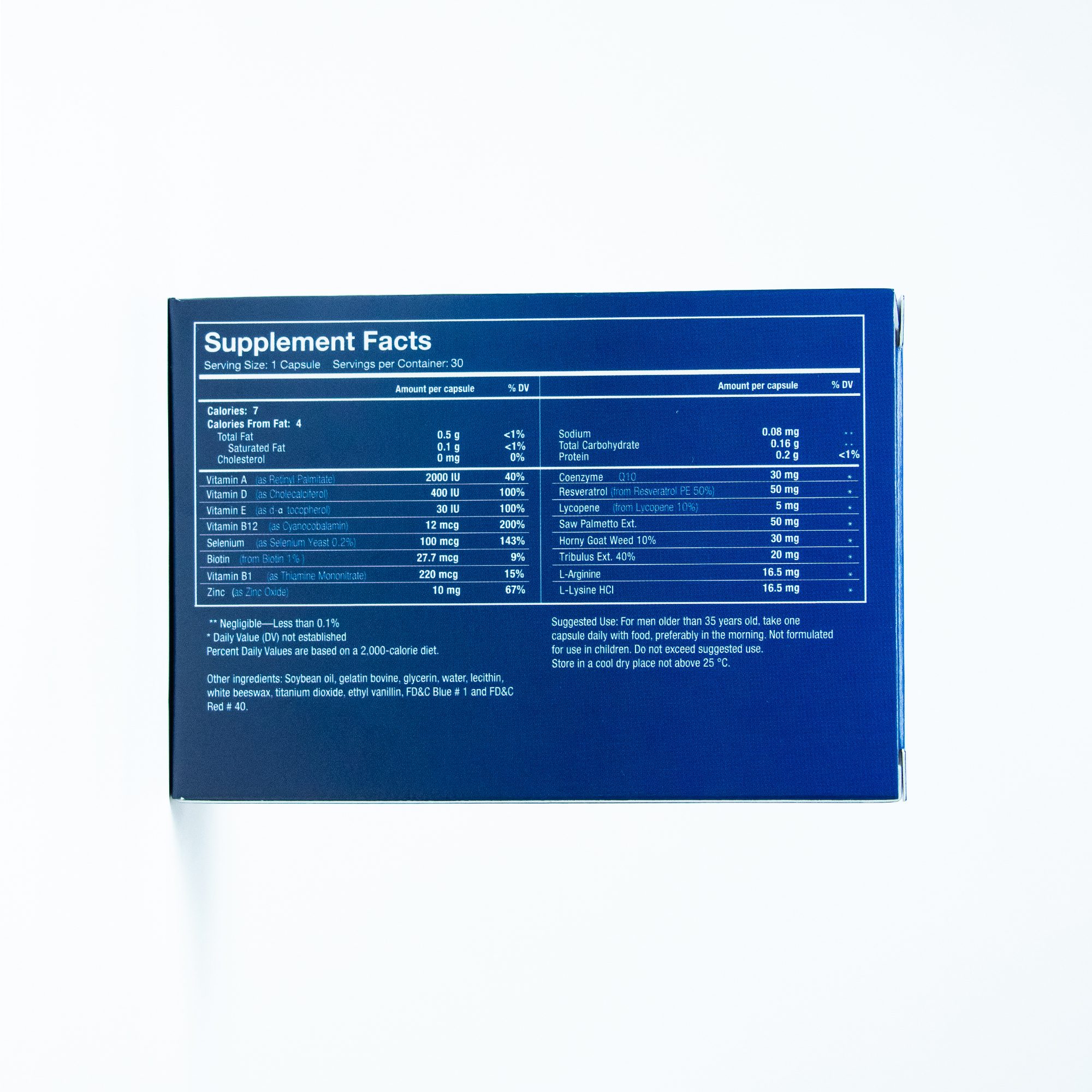 Protect
₨ 4,400
Vivioptal Protect for Men is a complete multivitamin with added minerals. Vivioptal Protect for Men is a powerful dietary formulated specifically for the needs of men over 35 years old. Addressing heart health, cellular protection, immunity and prostate health. Vivioptal Protect for men is fueled by a powerful blend of Anti-oxidants, Coenzyme Q10, Lycopene, to support an active and healthy lifestyle.  It boosts immunity and supports men's sexual health to its optimum level.
Compare
Reviews (3)
Description
Custom Tab
Description
VIVIOPTAL PROTECT IS A DIETARY SUPPLEMENT DESIGNED FOR MEN OLDER THAN 35 YEARS OF AGE WHO NEED ANTIOXIDANTS DUE TO HIS DAILY ACTIVITIES, THOSE WHO ARE EXPOSED TO FREE RADICALS AND ARE INTERESTED IN DELAYING ITS EFFECTS.
Antioxidants have disease-fighting properties that protect cells from damage by substances called free radicals. Antioxidants also may help keep your immune system healthy and reduce the risk for diseases such as cancer.
VIVIOPTAL PROTECT ALSO CONTAINS:
COENZYME Q 10:
Is a compound that is made naturally in the body. The body uses it to make energy needed for the cells to grow and stay healthy. The body also uses Coenzyme Q10 as an antioxidant. The highest amounts are found in the heart, liver, kidney, and pancreas. The lowest amounts are found in the lungs. The amount of Coenzyme Q10 in tissues decreases as people get older.
GRAPE FRUIT:
Is a powerful antioxidant that is produced by some plants to protect against environmental stresses. It is more commonly known, however, as the active ingredient in red wine that protects against heart diseases.
LYCOPENE:
Is a pigment that gives vegetables and fruits their red color. It is one of a number of pigments called carotenoids. It also appears to have strong antioxidant capabilities. Lycopene is a powerful antioxidant that may help protect cells from damage.
VIVIOPTAL PROTECT and its full range is now officially available in Pakistan. We are the exclusive distributor of M/s Bomuca International Corp. USA (the legitimate owner of Vivioptal brand world over). Look for the M/s Nature's Line Pvt. Ltd on the box and scan the QR code to verify its authenticity.
Our full line of products is available in supermarkets and pharmacy chain stores throughout the country.
PRODUCTS BENEFITS
      1. Promotes Health &
       Physical Growth
Boosts Libido

Increases timing

Maintains erection

Stimulates hormones

Increases Male Fertility

Effects positively on arousal

Supports men's reproductive health

Has Vitamin E, Known as Sex Vitamin

Provides a composite solution to sexual health

Prevents Damage from Oxidation of Sperms

Reduces Erectile Dysfunctions

Increases & Maintain Blood flow and Oxygen to Penis resulting better erections

Boosts athletic performance and recovery

Helps regulate fluid balance

Promotes healthy growth and reproduction

Prevents growth of harmful bacteria

Promotes metabolic growth

Releases hormones and enzymes that help with body functions
      2. Prevents cancer
Fights cancer cell

Gives Potential benefits against cancer

Limits Tumor Growth and Prevents Breast Cancer
       3. Protects Heart Health
Prevents heart diseases

Improves & Promotes heart health & function

Regulates heartbeat

Helps against heart attack

Essential for the heart and blood circulation

It plays a role in muscles movements and cardiovascular functions

Helps regulate muscles and heart contractions

Boosts cardiac contractility

Increases hemoglobin levels

Improves Heart Health by Decreasing Homocysteine

Reduces Chest Pain

Reduces Symptoms of Metabolic Syndrome
      4.

Acts as an Antioxidant
Increases Activity of Antioxidant Enzymes

Removes free radicals from body

Antioxidants of molybdenum aids in cell Protection

Improves antioxidant defense
      5

. Optimizes Immune System        
Produces Antibodies, Enzymes and Hormones

Boosts & Supports a healthy immune system

Fights autoimmune diseases
     6

. Forms Healthy  Cells
Promotes formation of red blood cells

Helps cells to reproduce appropriately

Keeps blood vessels healthy

Improves blood circulation

Prevents blood clots

Treat Anemia by Aiding Hemoglobin Production

Helps With Red Blood Cell Formation and Anemia Prevention.

Relaxes Arteries

Prevents clogged arteries
    7. Supports Wound  Healing
Acts as Pain relieving agent

Helps with wound healing

Treats surgical pain
     8

.

Manages Digestion,Cholesterol,
      Stomach, Kidney & lungs
Protects kidney health

Helps Kidneys to Remove Waste & Improves Kidney Functions

Helps keep your lungs healthy

Relieves Symptoms of Respiratory Conditions

Reduces asthma symptoms

Improves & Regulates digestion

Improves gastro-intestinal process

Relieves Chronic Diarrhea

Treats Constipation and Kills harmful Bacteria

Reduces cholesterol levels

Strengthens stomach lining

Improves appetite

Helps prevent kidney stones
      9.

Promotes Brain Health
Relieves nerve pain

Fights dementia

Helps Treat Psychiatric Disorders

Prevents migraine & Reduces Headache

Prevents or slows down Alzheimer's disease

Maintains healthy communication between the brain and other parts of the body

Plays a critical role in the development of the brain that regulates memory

Maintains brain health, as well as red blood cells

Benefits brain functions & Stimulates brain

Converts light signals into electrical signals in your retina 

Aids in the transmission of those signals to the visual cortex in your brain

Protects memory and thinking during aging

Promotes a better attention span, learning, and memory

Improves  nervous system
      10.

Enhances Mood & Reduces
       Depression
Keeps a positive  & healthy mood

Reduces Fatigue and Improves Focus

Reduces depression, anxiety, stress 

Defends against free radicals and oxidative stress
      11.Improves Skin Health
Cleans your skin

Supports UV protection

Reduces & Prevents risk of acne

Prevents Skin premature aging

Regulates melanin production

Reducing skin itching & other skin disorders

Prevents Skin cancer

Key to healthy skin and hormonal balance

Promotes skin health against sun damage

Maintains & Supports healthy skin

Soothes and moisturizes skin, Reduces redness & blotchiness

Treats Eczema

Treats Psoriasis

Preventing or minimizing the appearance of scars

Reduces Age Related skin Diseases

Promotes Collagen Growth

Produces Antibodies, Enzymes and Hormones

Reduces sun Sensitivity

Helps development and rebuild of healthy skin cells 

Helps to build keratin which Helps to reduce fine lines and wrinkles.

Helps treat hyperpigmentation
     12.Boosts Hair, Nails and  Teeth
Helps teeth formation & Growths

Prevents hair dandruff

Supports Healthy Hair, 

Builds and maintains strong teeth

Prevents hair getting grey

Prevents teeth decaying process

Delays hair fall

Improves Skin and Fingernails
      13.

Supports Eye Health
Protects eyes from harmful blue light

Protects against near sightedness (myopia)
Pre-term infants against the effects of retinopathy of prematurity (ROP)

Improves your visual contrast sensitivity

Reduces glare impairment

Protects your eyes from night blindness and age-related decline

Promotes Eye Health and Prevents Eye Diseases

Protects eyes tissues damage from sunlight

Reduces cell loss and other eyes diseases
     14.

Supports Bones,Muscles,
       Tissues,& Manages Arthritis
       Pain
Prevents osteoporosis

Improves stamina

Repairs muscles damage

Increases bones density

Develops & Repairs body tissues

Manages unexplained fatigue

Assists in the movement of muscles

Reduces the symptoms of arthritis

Strengthens, Supports & Promotes bones & muscles health

Enhances muscles performance during exercise

Beneficial for growth and maintenance of muscles tissues

Supports communication with muscles fibers and promotes muscles recovery

Helps in overall muscles mass development

Helps in improvement in the Restless Leg Syndrome

Reduces the risk of multiple sclerosis (MS)

Reduces Your Risk of Macular Degeneration.

Its anti-inflammatory actions assist in reducing arthritis pain
      15.

Boosts Vitamins, Minerals,
        Calcium and Iron Absorption
Absorbs iron

Helps prevent iron deficiency

Improves water retention

Boosts vitamins, minerals, phosphorous absorption

Improves Calcium Absorption and Retention
     16.

Manages Birth Defects
Vital for healthy pregnancy

Important for normal growth

Treats nausea during pregnancy

Helps Prevent Pre-eclampsia in Pregnant Women

Increases Growth in Children

 Aids breastfeeding

Prevents birth defects and pregnancy complications
      17.

Increases Energy
       &

Reduces Fat 
Converts fat into energy & Reduces fat

Turns sugar into energy

Helps in increase energy production

Prevents the accumulation of unwanted fat molecules
18 Important for thyroid health

19 Helps in Weight Loss

20 Prevents toxins from entering body

21 Reduces Age Related Diseases

22 Treats Inflammation Associated With Rheumatoid Arthritis

23 Suppresses Inflammation and Alleviates Allergic Disorders
References And Links 
https://www.healthline.com/nutrition/ -a-benefits#TOC_TITLE_HDR_7
https://www.health.com/nutrition/vitamins-supplements/vitamin-d-benefits
https://www.medicalnewstoday.com/articles/318168#Risks-and-considerations
https://www.rejuvii.com/post/2019/02/12/10-amazing-benefits-of-vitamin-b1-thiamine
https://www.healthline.com/nutrition/vitamin-b6-benefits#TOC_TITLE_HDR_11
https://www.healthline.com/nutrition/vitamin-b12-benefits#TOC_TITLE_HDR_5
https://www.healthline.com/health/the-benefits-of-biotin
https://www.everydayhealth.com/diet-nutrition/potential-benefits-of-zinc-supplements/
https://www.healthline.com/nutrition/selenium-benefits#6.-Boosts-your-immune-system
https://www.healthline.com/nutrition/selenium-benefits#6.-Boosts-your-immune-syste
BENEFITS AS PER INGREDIENTS
Vitamin A (Retinol Palmitate)

Boosts Collagen Production
Treats Mild Acne
Provides Anti-Aging Benefits
Essential for Vision and Eye Health
Increases Egg & Sperm Development
Integral to Health of Pregnant people and their Babies
Vitamin D (Cholecalciferol)

Improves Sexual Desire and Satisfaction
in Women
Decreases the Chances of Health Disease
Increases Immune System
Increases Bones and Teeth Growths
Decreases Risk of Depression
Helps to reduce weigh
Vitamin E (d-a-tocopherol)

Key to Healthy Skin and Hormonal Balance
Known as Sex Vitamin
Increases Blood flow and Oxygen to Penis resulting better erections
Improves Reproduction System
Vitamin B1 (Thiamine)

Necessary for Breast Feeding Women
Boosts Energy Production
Reduces the Effects of Sepsis
Helps Fight Depression
Good for Diabetes
Prevents Kidney and Circulation Problems
Reduces Need for Painkillers
Improves Memory
Vitamin B6 (Pyridoxine HCL)

Helps Nausea during Pregnancy
Reduces the Effects of Premenstrual Syndrome
Lowers Risk of Cancer
Helps Improve Immunity System
Lowers Risk of Health Disease
Vitamin B12 (Cyanocobalamin)

Helps with Red Blood Cell Formation and Anemia Prevention
Helps to Prevent Major Birth Defects
Supports Bone Health
Prevents osteoporosis
Reduces Risks of Muscular Degeneration
Reduces the Risks for Loss of Neurons
Boosts Energy Level
Improves Heart Health by Decreasing the Homocysteine
Supports Health Hair, Skin and Nails
Biotin

Regulates Blood Sugar Level
Improves Hair Health
Improves Skin and Fingernails
Increases Parental Care
Protects Heart
Suppresses Inflammation and Alleviates Allergic Disorders
Repairs Tissues and Muscles
Treats Multiple Sclerosis
Aids Weight Loss
Zinc  (Zinc Oxide)

Effects positively on arousal
Maintains erection
Boosts Libido
Increases appetite
Increases Growth in Children
Reduces Age Related Diseases
Selenium  (Selenium Yeast)

Protects Heart Diseases
Prevents Damage from Free Radicals
Supports Cognitive Functions
Improves  Thyroid Health
Supports  Prostrate Health
Reduces Asthma Symptoms
Keeps Testes and Seminal Vesicles Healthy
Promotes Production and motility of Sperms
Limits Tumor Growth and Prevents Breast Cancer
Increases Cholesterol Level
Lycopene

Reduces chances of Skin Disorders
Helps in Sperm Morphology
Boosts Brain Functions
Improves Bone Health
Prevents Damage From Oxidation of Sperms
Arginine (Arginine HCL)

Reduces Chest Pain
Lowers Blood Pressure During Pregnancy
Helps Prevent Preeclampsia in Pregnant Women
Helps Process of Healing
Helps Kidneys to Remove Waste
Relaxes Arteries
Lysine (Lysine HCL)

Helps Body to Absorb Calcium, Iron and Zinc
Promotes Collagen Growth
Produces Antibodies, Enzymes and Hormones
Boosts Immunity System
Reduces Erectile Dysfunctions
CoQ10

Improves Heart Function
Increases Female Fertility
Keeps Skin Young
Reduces Headache
Protects Lungs
Increase Activity of Antioxidant Enzymes
Grape Powder   (Vitis vinifera(Fruit))

Maintains Blood Flow
Improves Collagen Levels and
Bone Strength
Supports Brain as it Ages
Improves Kidney Functions
Inhibits Infectious Growth
Enhances Wound Healing and Appearance
Guarana Powder (Fruit of the Paullinia Cupana)

Reduces Heart Disease
Reduces Skin Aging
Reduces Fatigue and Improves Focus
Helps Weight Loss
Relieves Chronic Diarrhea and
Treats Constipation and Kills
Harmful Bacteria
Prevents Age Related Eye Disorders